---
MLK 2017
January 12-15, 2017
Perfect Game MLK Underclass Tournament (Phoenix, AZ)
Won their pool, advanced to the playoffs
Back L to R: Coach Brewster, Wade Beasley (Arkansas), Travis Hester (Arkansas), Hayden Travinski (LSU), Hunter Watson (Texas A&M), Nick Silcox (New Mexico State), Kaleb Hill (Ole Miss), Jesse Pierce (Arkansas), Evan Hiatt (Arkansas), Blake Adams (Arkansas), Mitchell Parker (Tennessee), Connor Thurman (Arizona), Coach Rose
Front L to R: Sean Guilbe (Tennessee), Elijah Trest (Arkansas), Connor Noland (Arkansas), Andrew Stanley (Arkansas), Garrett Cook (Independence CC), Mateo Gil (TCU), Tristin Lively (New Mexico State), Cason Tollett (Arkansas), Kam'Ron Mays-Hunt (Arkansas), Max Marusak (Texas Tech), Coach Slayton. Not Pictured: Trevor Leamer (Mount St. Marys) & Bryce Reagan (Texas)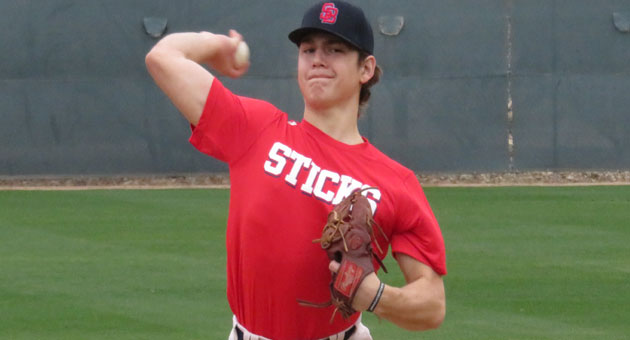 Opportunity knocks for Sticks
by: Jeff Dahn
GLENDALE, Ariz. – The record book that chronicles the five-year history of the Perfect Game West MLK Underclass (formerly 16u) Championship tells the reader that the teams enter the mid-January event carrying a roster solidified with a core group of prospects that have been teammates for several years is the one that will most likely come out on top.
The AZ Pilots 16u White (2012), Garciaparra Baseball Group (2013), CBA Marucci (2014), AZ T-Rex Baseball Club (2015) and the San Diego Show (2016) were all teams whose players knew each other well. They were not just a group of individuals assembled as teammates and sent out to enjoy a four-day weekend full of fun and games while in pursuit of a PG tournament championship. From there, they could go on their merry – and separate – way once the tournament was completed.
There is absolutely nothing wrong with doing things that way and "all-star" teams have won some big PG events through the years. It just hasn't happened at the PG West MLK Under. And it would certainly be silly to discount the chances the Little Rock, Ark.-based Sticks Baseball Academy has of winning this weekend's PG West MLK Underclass Championship based not only on history alone, but also because Sticks BA is looking to mine gold by combining the best of both worlds.
The Sticks have gathered here in the Valley of the Sun – although sunshine was in short supply on Friday – with a 20-plus man roster of talented 2018s and 2019s (high school juniors and sophomores) that boasts 18 prospects that have already made commitments to NCAA Division-I colleges (eight of them to the University of Arkansas).
Nine of those commits from the class of 2018 are ranked in the top 263 nationally and three 2019s are ranked in the top 305 of their class. What sets the roster apart is that there are eight players that played with a Sticks Baseball Academy team over the summer – six of those eight have committed to D-I schools – and the additional players were picked up from other programs that don't have a team at the PG MLKs.
On paper, at least, it looks like a potent example of an effective mix-and-match with teammates that have played together for a year or two introduced to some talented newcomers; they have agreed to come together with the idea of winning a PG tournament championship.
"We had a lot of interest in doing this, and we just wanted to do what was right for the kids," Sticks BA manager Chase Brewster said Friday from the Camelback Ranch spring training complex when asked why the decision was made to field a team at the PG West MLK Underclass Championship.
"We've got a lot of guys ere that have a chance to get drafted (in 2018 and 2019) and play pro ball so we wanted to get them in front of the pro scouts on this side of the country," he said. "… We want to take care of our kids and get them seen from coast-to-coast."
The top-ranked Sticks regulars from the class of 2018 (and their commitments) are No. 163 right-hander/outfielder Connor Noland (Arkansas), No. 239 right-hander Wade Beasley (Arkansas) and No. 244 left-hander/outfielder Kaleb Hill (Mississippi). No. 213 right-hander/outfielder Blake Adams (Arkansas) and No. 305 catcher/first baseman Cason Tollett (Arkansas) are the top Sticks regulars from the class of 2019.
Add to that core group top 2018s like No. 27 Hunter Watson (Texas A&M), No. 52 Bryce Reagan (Texas), No. 140 Sean Guilbe (St. John's), No. 164 Conner Thurman (Arizona), No. 226 Mitchell Parker (New Mexico) and No. 263 Tristin Lively (New Mexico) and it's a group that has the potential to pack a pretty powerful punch.
"This is a good event to get all these guys together at," Noland, who is from Greenwood, Ark., said Friday. "A lot of us haven't played together before but we're going to come together and play here in Phoenix and have some fun. It can be a challenge – like the pitcher-catcher relationship, we don't have that – but we'll have to work together and figure it out on the run.
"All of these guys have the same skill level – a lot of Division-I commits and a lot of really talented guys – so we can feed off each other and try to make it work."
Brewster is on the coaching staff at Genoa Central High School in Texarkana, Ark. He's no stranger to PG tournaments, having served as an assistant coach on the Marlins Scout Team and also for North East Baseball in years past.
Mostly because of his experiences with the Marlins Scout Team and its manager, Shaun Manning, Brewster feels like he's learned how to bring a diverse group of players together and enable them to be competitive right away in three or four-day tournaments.
Everyone got together for a team batting practice session and a team dinner Thursday night and got up early and had a team breakfast Friday morning. Those functions provided a valuable opportunity for the newcomers and the seasoned Sticks players to get acquainted with one another before they got out to the field on Friday morning.
"A lot of these not only played together in the summer on (a Sticks) team but three or four played together on another team," Brewster said. "You can get them all together in a group for those things, and it helps that they kind of know each other a little bit already. We've had a group text message going for about a month so they're already been cracking jokes and doing stuff like that."
The Sticks squeaked past Chandler, Ariz.-based All9Baseball by a 1-0 count in their tournament-opener Friday afternoon. The 2018 right-hander Lively and 2019 righty Jesse Pierce combined on a seven-inning, nine-strikeout no-hitter, walking three, with Lively working the first four innings and Pierce the final three.
Sticks BA scored the game's only run in the bottom of the seventh when Max Marusak led-off with a single, stole second, moved to third on an error and scored on a sacrifice fly off the bat of Guilbe. Small ball and outstanding pitching got it done on this day, and Brewster wasn't the least bit surprised by the outcome.
"The good thing with this group, and you can see it on social media, is you know how hard they work," he said. "You see them in the cage every day and they can't wait for their (high school) seasons to start, so you can get them here a month early and they can take a lot of swings and get a couple of innings on the mound. They can get some work in and meet some new people and just have a great experience.
"This is one of the best events you can go to on the West Coast, so we're excited to be able to bring a good team here and hope that they play well."
Sticks Baseball Academy is located in Little Rock and fields teams in the 8u through 18u age-groups. This team, with 18 2018s and four 2019s on the official roster, is technically a 16u team, and a very good one at that.
Brewster had nothing but praise for Sticks Baseball Academy owner Steve Landers Jr. and general manager Zac Bottoms, who were responsible for making this elite baseball experience possible. He also praised the work his assistant coaches, Kyle Slayton and Craig Rose do, and the players, well, they're just content to go out and do their thing.
"Coming together with a group of guys and a lot of them who you don't know, it's really pretty fun," Kaleb Hill said Friday. "And then once you get on the field and you get that talent working together, it's just a good feeling. With all this Division-I talent, it's crazy to come out and compete, and that's really all you need to do. Just compete and then have fun with the game."
Brewster said he could sense the camaraderie developing as early as Thursday night's batting practice workout. He noticed the other players beginning to feed off the energy coming from Hunter Watson, who at No. 27 is highest ranked national 2018 at the event. Brewster couldn't help but notice how Watson never tried to place himself above the other players and how he immediately earned his teammates' respect and admiration.
"That's what it's all about. Having a great experience, getting some exposure and having some good times; if we can help with somebody's development along the way, that's even better," Brewster said.
"You can absolutely use this as a learning experience," the humble Watson added. "You can see where you're at playing against some of the best talent in the nation, so it's awesome to see where you're at and what you need to work on."
The PG West MLK Underclass Championship is running in conjunction with the PG West MLK Upperclass Championship and the PG West MLK Freshman Championship, with all three playing games at the Camelback Ranch complex, the Maryvale Stadium complex and selected high school fields. All three tournaments will crown champions on Monday after providing four days of exciting play and plenty of opportunities for the players to live and learn.
"I think it's great preparation for the high school season, just getting out here and getting some cuts in and getting some work in," Watson concluded. "It's pretty cool to play with a group of guys that you haven't met before. We've got a bunch of D-I commits on (the roster) and they're all chasing the same dream trying to play pro ball one day, so that's pretty awesome."